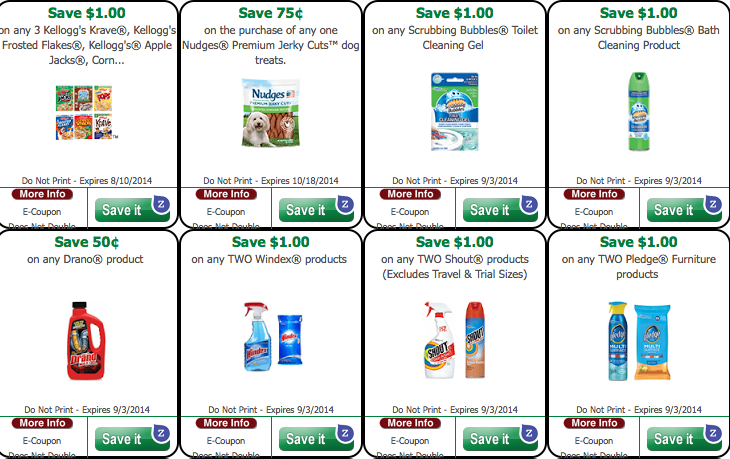 Lots of new cleaning e-VIC coupons have been added.  The products aren't on sale this week, so I'm not listing complete matchups.  If you might want a product, go ahead and load it onto your card so it doesn't disappear on you.  I'm also including a list of coupons that will stack with these offers, so you can print now and hang onto them.

$1.00 off THREE Kellogg's cereals listed
$0.75 off any one Nudges brand product
$1.00 off any TWO Shout products
$1.00 off any TWO Windex products
$0.75 off any Windex Touch-Up Cleaner
$1.00 off any TWO Pledge Furniture products
$0.50 off Scrubbing Bubbles All Purpose Cleaner
$1.00 off Scrubbing Bubbles Toilet Cleaning Gel
$1.00 off any SB Bath Cleaning Product
$1.50 off any Pledge FloorCare product
$1.00 off any TWO Shout Color Catcher products
What are e-VIC coupons?

e-VIC coupons are paperless coupons that can be redeemed for face value at Harris Teeter stores.  You must be an e-VIC member to access these special coupons.  You can load e-VIC coupons onto your VIC card and the saving will be deducted at the register.  e-VIC coupons and paper manufacture coupons can be "stacked".  Learn more about Harris Teeter e-VIC coupons HERE.
See more Harris Teeter Ad Deals plus don't forget about the FREE Softsoap!