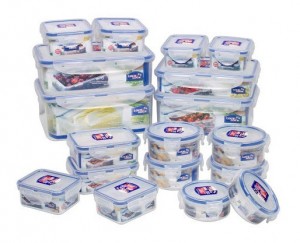 Today's Amazon Gold Box deal of the day is a great deal for anyone needing more food storage! Save over 40% off Lock&Lock Food Storage Container Sets
for a limited time. There are two sets available depending on your storage needs.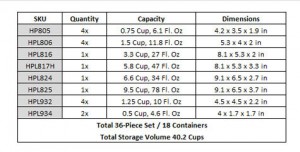 Lock&Lock BPA Free Airtight Container 36-Piece Set/18-Containers, Capacity 40.2 Cups
– $29.99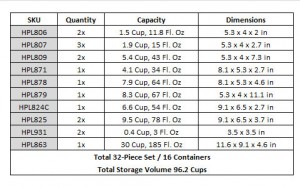 Lock&Lock BPA Free Airtight Container 32-Piece Set/16-Containers, Capacity 96.2 Cups
– $37.99
Lock&Lock's Classic food-storage containers feature an innovative four-sided locking system for an airtight seal and watertight storage so food stays fresh longer and there's no messy leaks or spills to worry about. The four sides of the locking system promote an airtight seal due to equal pressure to all four sides, along with the hollow-center silicon sealing ring that makes it possible to lock tightly (the silicone sealing ring can be removed for cleaning if necessary).
Made of high-quality BPA-free plastic, Lock&Lock's Classic food-storage containers not only offer an airtight and watertight seal, but they're also durably built for unbreakable, long-lasting use and hygienic, food-safe storage.
The containers can withstand temperatures ranging from -4 degrees F to 210 degrees F, making them suitable for use in the freezer, microwave* (reheating only), and dishwasher (top-rack). The base and lid should NOT be used in the oven, under browning elements, or on the stove top. Another thoughtful design detail includes the fact that the containers can be nested together, and with the lid in place, they can be stacked one on top of the other–particularly useful where space is limited.
As always Amazon prices will and do change in an instant so you will want to hurry for this great price!