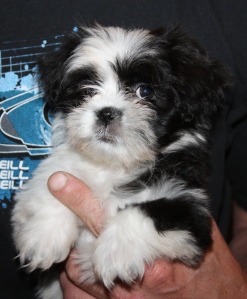 Many thanks to Cuckoo For Coupon Deals to bring you a weekly Pet Deal Round-up!  I know with my puppy Bella, I need all the pet deals I can get!
Petco:
Price Valid Until 2/20/12
FREE Can of Purina Pro Plan Dog Food Printable Coupon Coupon is valid through 3/31/12.
Greenies Canine Dental Chews, 18 oz pkg, $24.49
Use $3/1 Greenies Canine Dental Chews,12oz+,exp 3/31/12 (RP 2/5/12)
Final Price=$21.49
10% Off Small Breed Dog Food
Arm & Hammer Cat Litter, 28lb Box (Includes New Ultra Last Formula), $9.99
Use $1/1 Arm & Hammer Clumping Cat Litter printable
FREE After MIR Pet I.D. wyb (2) Arm & Hammer Cat Litter printable
Final Price= $8.99
Fancy Feast Canned Cat Food, 3 oz Cans, 20/$11 (Excludes Elegant Medleys)
Use $1/24 Fancy Feast Gourmet Cat Food printable
$1/24 Fancy Feast Gourmet Cat Food printable
$1/24 Fancy Feast Cans, exp. 4/29/12 (RP 01/29/12 #2)
B2G1 Purina Fancy Feast (Recyclebank)
$1/24 Fancy Feast Gourmet Cat Food printable
Final Price= As Low As 3/$1.10 ($0.37 each!)*CUCKOO*
20% Off Entire Stock of Beneful Dog Food
Use $1.50/1 Purina Beneful Dog Food, exp. 4/1/12 (Kroger, Healty Pets Home Mailer)
Final Price= Varies
Fresh Step Cat Litter, 42 lb Box, $15.99
Hill's Science Diet Ideal Balance Dog Food, 30 lb Bag, $38.29
Use $2/1 Hill's Science Diet Ideal Balance Cat or Dog Food @Petco, exp. 3/31/12 (SS 01/29/12)
$8/1 Hill's Science Diet Dog Food Product Printable
$5/1 Hill's Science Diet Ideal Balance Cat or Dog Food @Petco, exp 3/31/12 
Final Price=As Low As $30.29