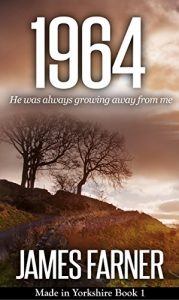 Amazon has 1964 (Made in Yorkshire Book 1) for FREE download to your Kindle. If you don't own a Kindle you can install the Kindle version for your PC, Android, Tablet, etc. and still get all the free books! As always Amazon prices will and do change in an instant so you will want to hurry for this great price! Read more about this book from Amazon's description:
Richard Warren, aged ten, is growing up in the North Yorkshire village of Ledder Bridge. Through verdant fields and meandering brooks, life is simple and easy, far from the turmoil of the Cold War world. When an adventure with his older brother Peter Warren goes wrong and Richard finds himself trapped in the dark depths of an abandoned quarry, it kick-starts a chain of events that brings him into contact with work, family conflict, and the dreaded English class system. Will Richard be able to persevere and become wise well beyond his tender years?
Don't have a Kindle?

This ebook is specifically for Kindles. However, you can download a free application which enables you to read Kindle ebooks on your computer, iphone, Android, Blackberry, iPad and more.
Why pay for books when you can get them free? See more FREE ebook offers!
Product prices and availability are accurate as of the date/time indicated and are subject to change. Any price and availability information displayed on amazon.com at the time of purchase will apply to the purchase of this product.