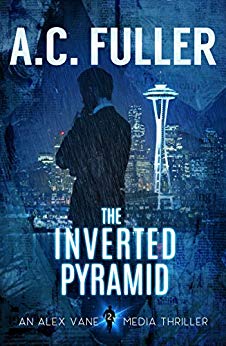 Amazon has The Inverted Pyramid (An Alex Vane Media Thriller, Book 2) for FREE download to your Kindle. If you don't own a Kindle you can install the Kindle version for your PC, Android, Tablet, etc. and still get all the free books! As always Amazon prices will and do change in an instant so you will want to hurry for this great price! Read more about this book from Amazon's description:
After exposing a low-level congressman for accepting bribes, Alex attends a conference and runs into an old friend–and flame–Media Studies Professor Camila Gray. But just as they begin to reconnect, Alex's business partner disappears, leaving Alex only one clue: the name of a hacker who was recently murdered. A source hints at a vaster conspiracy, one that may reach all the way up to the fast-approaching presidential election.
Alex and Camila travel to Alex's hometown to find answers, where they race to untangle the connections between the dead hacker and the disappearance of Alex's partner. But all the while, a mysterious source is pulling the strings of their investigation, of the election, and possibly of their lives.
Don't have a Kindle?

This ebook is specifically for Kindles. However, you can download a free application which enables you to read Kindle ebooks on your computer, iphone, Android, Blackberry, iPad and more.
Need a Kindle?
Why pay for books when you can get them free? See more FREE ebook offers!
Product prices and availability are accurate as of the date/time indicated and are subject to change. Any price and availability information displayed on amazon.com at the time of purchase will apply to the purchase of this product.