Homemade Donuts – Learn How to Make Homemade Glazed Donuts with this easy recipe! We LOVE glazed donuts, so these are always a real treat in my house.

Everything is better when you make it yourself. Try these homemade donuts next time you have a craving for a sweet breakfast.
Ingredients
3⁄4 Cups Milk
3 Tbsp. Butter, softened
1 Pkg. Instant Yeast (.25 oz.)
3 Tbsp. Warm Water, 100 ̊± 5 ̊
2 1⁄2 Cups Flour plus additional for rolling
1 Egg
2 Tbsp. Sugar
3⁄4 teas. Salt
For the Glaze
1 Cup Powdered Sugar
1⁄2 teas. Vanilla
1⁄4 teas. Salt
2 Tbsp. Milk
Oil for Frying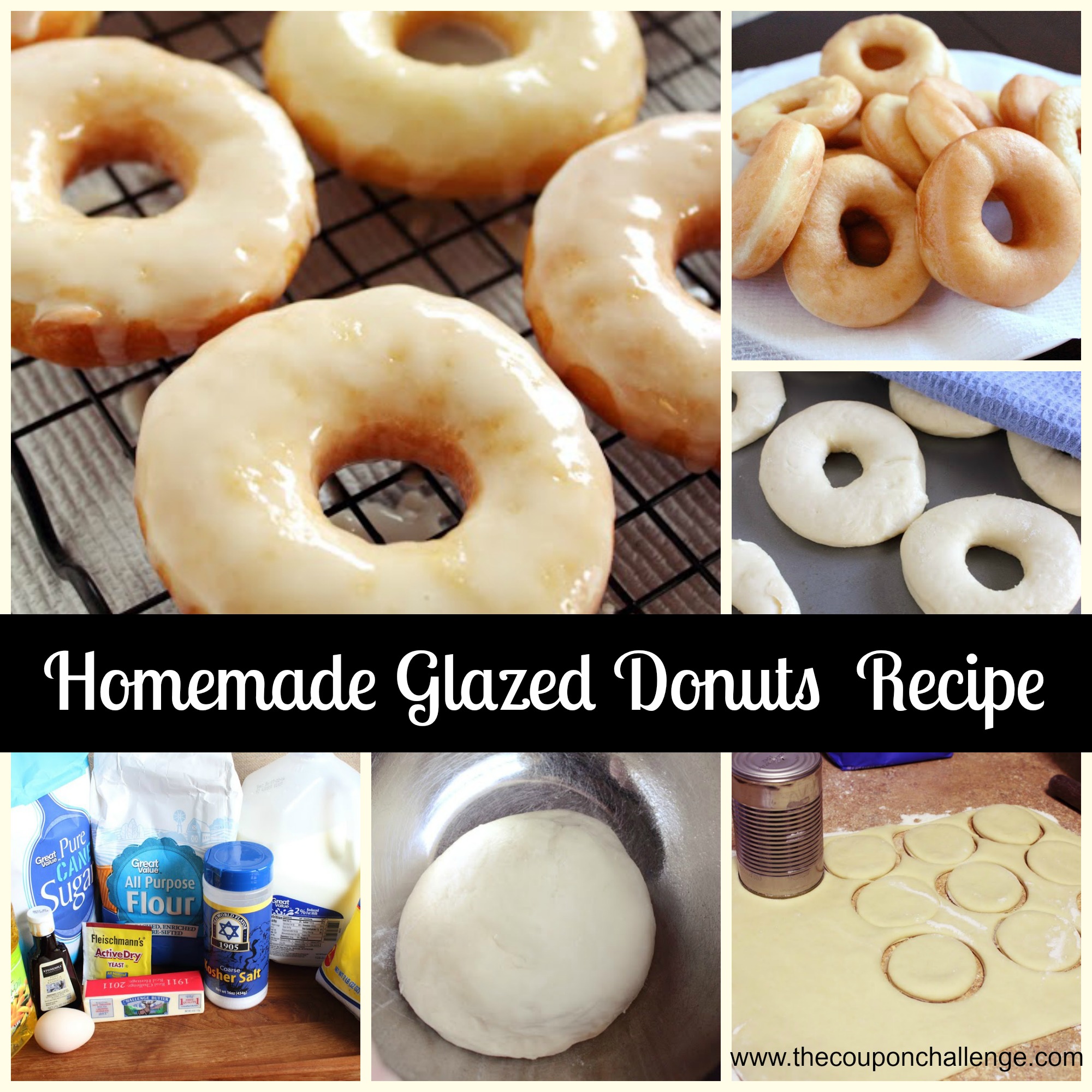 Instructions
In a small saucepan over medium heat bring milk to a simmer. Remove immediately and let cool to almost room temperature.
In a small cup dissolve yeast over the warm water and let sit for 5 minutes.
Using a mixer, add yeast, milk, butter, 1/3 of the flour, egg, sugar and salt. Combine well.
Add another 1/3 of the flour and mix until the flour is well incorporated.
Add the remaining flour, then change to the dough hook. Mix on low until the flour is incorporated then use medium speed until the dough pulls away from the sides of the bowl and is nice and smooth, Approximately 3 minutes.
Place dough into a large bowl sprayed with cooking spray, roll once to coat with oil.
Cover and let rise for 1 hour in a warm area until doubled in size. The oven with the interior light left on works well.
Dust a work surface with flour and turn out the dough. Roll out to 1⁄2 inch thick. Cut dough out into 3 inch rounds. Cut a 3⁄4 – 1 inch hole out of the center of the rounds. Place on a floured cookie sheet and cover. Let rise an additional 30-45 minutes.
Heat at least 2 inches of oil in a large heavy high sided pot to 360 ̊. Keep an eye on the temperature and work in small batches.
Place doughnuts into the oil and let fry for 30 seconds on each side. Remove and place on a wire rack over paper towels. Let cool.

For the Glaze.
In a medium flat bottomed bowl whisk together the Powdered Sugar, Vanilla, Salt and Milk.
Put a doughnut into the glaze on one side and then place it back onto the wire rack glaze side up.
Let sit until the glaze is set, about 5 minutes.
What did you think?  What is easy to learn Learn How to Make Homemade Donuts?
You might also like these Weight Watchers Pumpkin Muffins or Homemade Fruit Sorbet Recipe