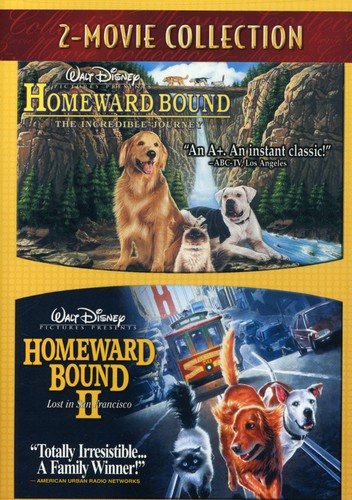 *Easter Basket Gift Idea*
Get Homeward Bound – The Incredible Journey / Homeward Bound II – Lost In San Francisco for only $4.99 – was $14.99! This is the lowest price we've seen on this movie set!
This item is available because of the Add-on program
The Add-on program allows Amazon to offer thousands of low-priced items that would be cost-prohibitive to ship on their own. These items ship with qualifying orders over $25.
HOMEWARD BOUND: THE INCREDIBLE JOURNEY: This thrilling and thoroughly captivating theatrical hit from Disney has become an instant favorite with audiences of all ages. You'll lose your heart to Chance, a fun-loving American bulldog pup; Sassy, a hilarious Himalayan cat who lives up to her name; and Shadow, a wise old golden retriever — all of whom express themselves with very familiar human voices! The adventure begins when the loving owners of these irresistible pets are forced to leave them in the temporary care of a friend who lives hundreds of miles away. But after several days, the worried animals begin to think their family must be in trouble, so they decide to head for home. On their incredible journey across the ruggedly beautiful Sierras, they encounter unexpected surprises from man, beast, and nature alike. It's an unforgettable story of love, courage, and devotion that will delight and inspire generations to come!~~HOMEWARD BOUND II: LOST IN SAN FRANCISCO: Your favorite trio of talking animals is back in this action-packed Disney adventure that'll have the whole family bursting with excitement and laughter! Michael J. Fox, Sally Field, and Ralph Waite supply the voices of Chance, the American bulldog; Sassy, the Himalayan cat; and Shadow, the golden retriever — and Sinbad speaks for their newfound canine friend, Riley — in this critically acclaimed sequel to Disney's now-classic HOMEWARD BOUND: THE INCREDIBLE JOURNEY. When the pets accidentally get separated from their vacationing owners, Chance, Shadow, and Sassy navigate the mean streets of San Francisco, trying to find their home across the Golden Gate Bridge. But the road is blocked by a series of hazards, both man and beast. It's another incredible journey for three very brave, very lovable pets, in a thrilling, funny adventure that's 'bound to please' (New York Post) the entire family!
Your order will qualify for FREE shipping with Super Saver Shipping on orders over $35 or with Amazon Prime .  Or orders of $25 if purchasing eligible books. You can also sign-up for a FREE 1-month trial of Amazon Prime HERE to test it out and see if it works for you.  Try Prime for free.
Amazon Prime offers multiple benefits including:
FREE Two-Day Shipping for eligible purchases.
Access to Amazon Instant Video
Ability to borrow books from the Kindle Owners' Lending Library.
Product prices and availability are accurate as of the date/time indicated and are subject to change. Any price and availability information displayed on amazon.com at the time of purchase will apply to the purchase of this product.
Check out these other Amazon Deals: