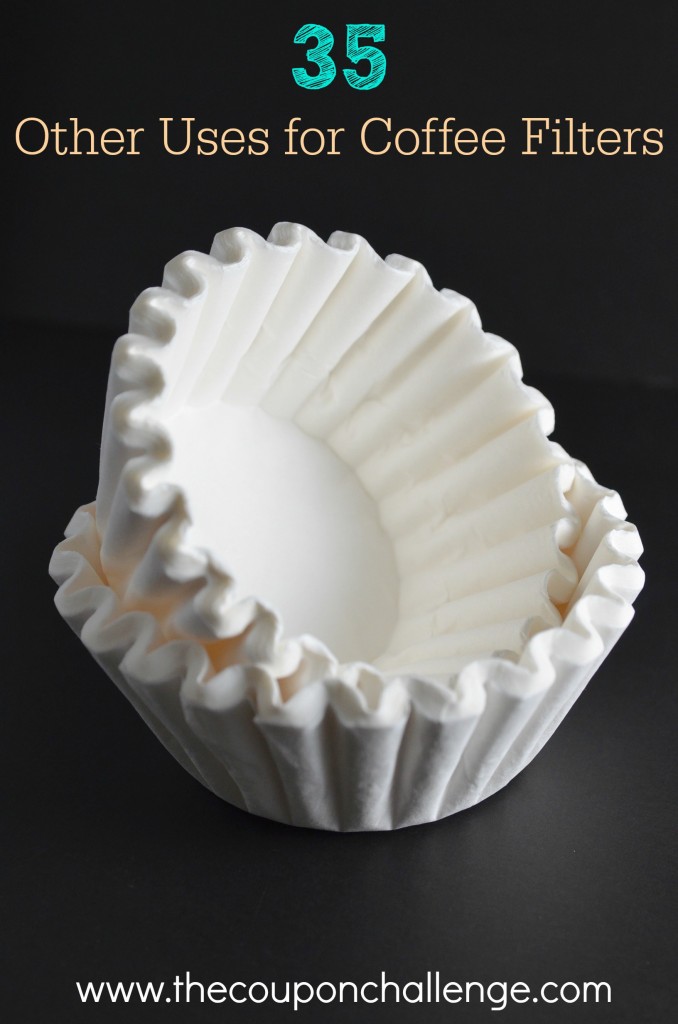 There are countless other uses for coffee filters other than just making your cup of Joe in the morning.  You can get crafty, clean-up around the house, hold food and more!  Their durability and versatility make it wise for any money-saver to find other uses for coffee filters!
Coffee filters are super cheap, so finding other uses for coffee filters can really help stretch your budget.  Find them at the Dollar Tree, Walmart or just about anywhere.  A 200 ct package will cost you $2 or less! I found several Coffee Filters on Amazon that are only $0.011 per filter!
Other Uses for Coffee Filters:
1.  Let kids draw on a coffee filter with markers then get the filter damp.  The colors will run slightly making a nice look for paper flowers.  Finish the ends with a pipe cleaner.  Kids can make single flowers or put them together in a bouquet.
2.  Make a parachute for your child's action figure with a coffee filter and string.
3.  Have watermarks on wine glasses or silverware?  Dry with a coffee filter and they will be spot-free.
4.  Need to separate snacks but don't want to clean a bowl?  Place snacks such as pretzels, popcorn and peanuts in coffee filters for a convenient snack pack.  *Take coffee filters to the movies and use them to split a bag of popcorn- no more fighting over who gets to hold the bag!
5.  Poke the stick from a Popsicle through the middle of the filter to catch drips and keep the kids clean!
6.  Another similar idea to catching drips from Popsicles, wrap a coffee filter around the bottom of an ice cream cone.  You see this with napkins at ice cream shops all the time, but the coffee filter won't tear when the first drip of ice cream hits.
7.  Do you have kids that get pickle juice all over themselves when they eat? Place the pickle spear on a coffee filter to catch the drips and keep their hands clean.  PLUS the coffee filter won't stick to the pickle like a paper towel.
8.  Skip the paper plate at your next BBQ and use coffee filters for hot dogs.  They are also great as taco holders during Fiesta night.
8.  Use a coffee filter instead of a paper towel to spread oil or butter in a pan before baking.
9.  Need to weigh food but don't want to put it directly on the scale?  Place it in a coffee filter, weigh then discard.  No cleanup of the scale required!
10.  Wrap freshly cut celery and other veggies in a coffee filter before putting it in a bag in the fridge.  The filter will soak up the moisture keeping your veggies crisper and lasting longer.
11.  Keep the soil from coming out of the hole in the bottom of a potted plant by sticking a coffee filter in the pot before placing your plant.  Water will still escape, but you won't lose any soil!
12.  Use coffee filters in between dishes to keep them from scratching.  This is especially great if you have nice or antique china to protect.
13.  You can also use coffee filters to separate pots and pans so they don't scratch.
14.  If you have a cast iron pan, put a clean coffee filter into the pan after washing.  It will adsorb excess water, so your pan doesn't rust.
15.  Place a coffee filter under fruit in your bowl or container.  It will help keep your fruit from getting brown spots.  This also works great for absorbing water from freshly washed fruits.  I place a coffee filter in my Tubberware to absorb the excess water after I wash grapes.
16.  Traveling but don't want to pack your pets food bowl?  Use a coffee filter!
17.  Use a coffee filter to help protect Christmas ornaments while in storage.
18.  Melting butter or cooking something in the microwave?  Place a coffee filter over the bowl to prevent splatters.
19.  Blot up a spill on furniture or carpeting with a coffee filter.  The filter won't leave lint behind like paper towels.
20.  Cut yourself shaving?  Use a piece of coffee filter to dab the cut and help stop the bleeding.
21.  Working a on DIY project?  Keep those nuts, bolts and screws together by separating hardware in coffee filters.  You don't want to finish putting that bench together only to realize your missing the last screw!
22.  Run out of paper towels but need to wipe up a mess?  Grab a coffee filter!
23.  Use coffee filters as blotting papers for pressed flowers.  Simply place flowers in between 2 coffee filters and close in a heavy book. Voila!
24.  Use a coffee filter to make a sachet and keep your drawers smelling fresh.  Follow the directions for how to make a sachet substituting a coffee filter for the fabric.
25.  Keep coffee filters in your car to use in place of napkins or to do a quick wipe down of the dash when your stopped at a light.  The coffee filter will help grab that dust in a snap.
26.  Shine your leather shoes by putting shoe polish on a coffee filter – you'll get a lint free shine.
27.  Want to keep your fridge smelling fresh?  Put 1 Tbsp of baking powder in a coffee filter, tie it up with string and it will absorb odors.
28.  Place a coffee filter with baking soda in a stinky shoe to help remove stinky foot odors.
29.  Tie fresh herbs in a coffee filter for soups and stews instead of cheese cloth.  Just pull out and discard before serving.
30.  Use a coffee filter (or 2) in place of a paper towel when cooking bacon or fries.  It will soak up the bacon grease just as well and for less money.
31.  Clean glass and windows with a coffee filter for a streak (and link) free shine. Coffee filters are also safe to use on computer screens and other electronics.
32.  Coffee filters can strain more than just coffee.  Use it to strain grease, chemicals or to get cork pieces out of wine if you broke the cork while opening.  I've been known to do this!
33.  Fix a wobbly leg on your table by using a coffee filter folded multiple times.  I'm sure you've seen this with paper and napkins, so now you can use a coffee filter.
34.  Use a coffee filter instead of a paper towel to help start seeds.  Just wrap seeds in a damp coffee filter and place in a baggie.
35.  Another crafty  use for coffee filters is to make snow flakes around the Holidays.  They are already round and white (if bleached) so kids just need to cut out designs in the middle.  *Make a garland by stringing multiple coffee filter snowflakes together.
As you can see, coffee filters have an incredible amount of uses.  Make sure to grab a few extra packages the next time they go on sale!
What other uses for coffee filters can you add?
Check out more articles to find other uses for your favorite products: