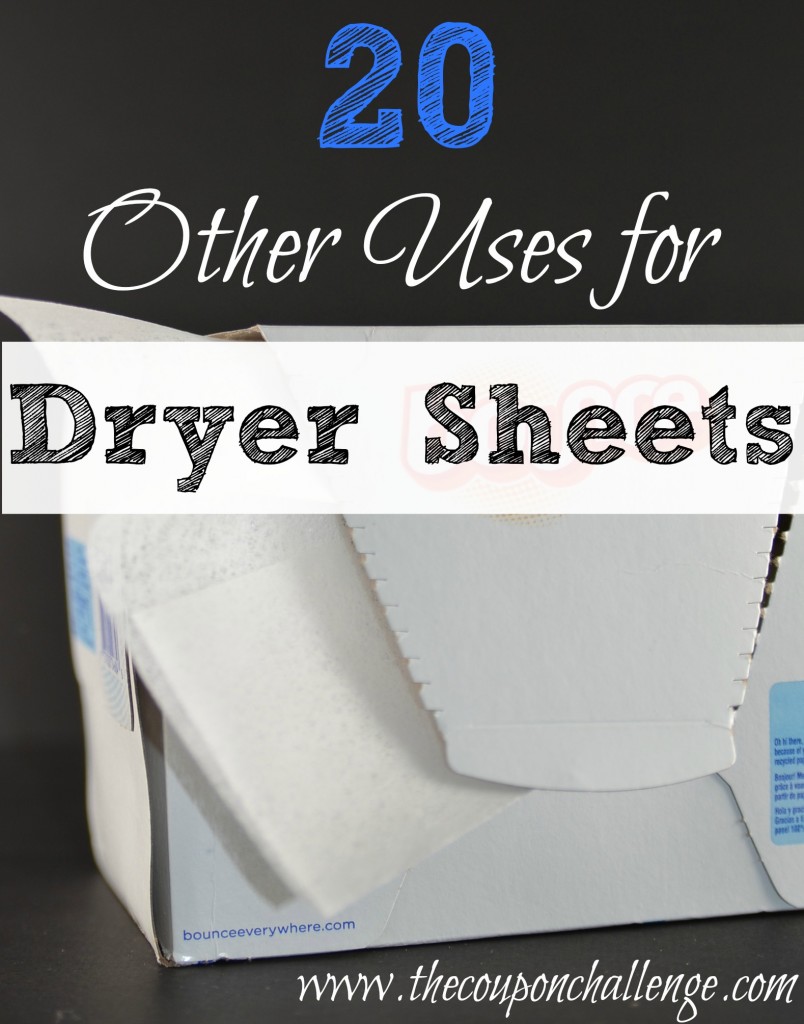 Do you throw in a dryer sheet every time you switch your clean clothes from the washer to the dryer?  STOP throwing out those dryer sheets after just one use!   Dryer sheets have many uses other than keeping your clothes soft and static-free.  The other uses for dryer sheets include everything from cleaning to air freshener to rodent repellant.
USED dryer sheets are sufficient for most of these tips, they don't have to be new.  Keep an old tissue box or old dryer sheet box next to the dryer to store your used dryer sheets until they're needed.
Other Uses for Dryer Sheets:
1. Clean the Laundry Room:  After you finish a load of laundry, use the dryer sheet to wipe off excess dust and grim from your washer/dryer, clean the drum or get excess lint off the lent trap and surrounding the lent trap.  I do this after (almost) every load.  I'm famous for having drops of dried up laundry detergent on my washer and this works like a champ!
2. Dusting:  Did you know a dryer sheet makes a great duster?  They easily grab dust off furniture, baseboards and my personal favorite – blinds!
3. Bathtub/Shower Scrub:  Wet a dryer sheet and use it to scrub off soap grim from your shower or bathtub.  This works great for shower doors too!
4. Stinky Sports Bags:  Place a new dryer sheet in your gym bag or sports equipment bag to help keep away the stink.  My son's Tae-Kwon-Do bag gets a terrible foot odor without a dryer sheet – EWW!
5. Car Freshener:  Keep your car smelling fresh by placing new dryer sheets under the seats, in the glove box, trunk or under floor mats to keep your car smelling fresh for less.
6. Stored Items:  Do you have items such as luggage, sporting equipment or camping gear that is rarely used?  Place a new dryer sheet in items stored in the garage, attic or basement.
7. In Shoes:  Place a dryer sheet in your shoes to help minimize odors.
8. Insect Repellant:  Put a new dryer sheet (Bounce brand works best) in your pants pocket to help keep away mosquitoes and gnats without having to spray chemicals.  If the insects are particularly persistence, try rubbing the dryer sheet on your clothes and even skin to keep the buggers away.
9.  Clean-up Hair:  Anyone else always have hair all over the bathroom floor?  Those individual strands can be a pain to clean up, but a used dryer sheet is perfect for the task!  The hair clings to the dryer sheet, so a quick wipe on your bathroom floor will work wonders.  You can even use your foot to wipe the floor while you brush your teeth – multitasking is always best 🙂
10.  In Your Clothes Drawers:  Keep dryer sheets in your drawers to lengthen the fresh smell of your clothes.  This is a great alternative if you don't know how to make a sachet.
11.  Reduce Static Cling:  Rub a dryer sheet over clothes (even your hair starting at the root) to reduce static cling.
12:  Make That Iron Shine:  Turn your iron on the low setting and rub the surface with a dryer sheet to remove the gunk.  Make sure to be careful not to burn your fingers!
13.  Air Freshener:  Place a new dryer sheet over the heating vent.  Not only will your home smell fresh, it helps to collect dust.  Change sheet about once per week or as needed.
14.  Diaper Pail:  Place a sheet in the diaper pail to help keep odors in check.  You can also place a dryer sheet into a used diaper before rolling it up and discarding.
15:  Rodent Repellant:  In addition to keeping away insects, use dryer sheets at the entrance to mice holes or in campers to keep the rodents away.  Apparently rodents don't like to smell fresh!
16.  Clean Computer and TV Screens:  Gently wipe the screen of your computer or TV screen with a dryer sheet.  Not only will it help remove the dust but it will help repel future dust build-up.
17. Clean-up Flour and Powder:  Having trouble wiping up spilled flour or powder?  The fine particles will cling to the dryer sheet and make clean-up a snap.
18.  Pet Hair Removal:  If you have a pet that sheds, rub a dryer sheet over your clothes (or even directly over your pet) to remove pet hair.  It can also help to hide the "wet dog" smell after Fido has been outside in the rain.
19.  Freshen Up Old Books:  Place a dyer sheet in an old book and zip up in a plastic bag for a couple days to help get rid of the musty smell.
20.  Make Chrome Shine:  Prevent streaks and make chrome shine with a new or used dryer sheet.  This is great for hubcaps or your toaster!
People have been using dryer sheets to do laundry since they were first invented in the 1960's.  Due to the fact that they are relatively inexpensive and widely available, we have come up with many other uses for dryer sheets than just to keep your socks from clinging to your blouse.
Most of these other uses for dryer sheets should also work with natural dryer sheets such as Seventh Generation Fabric Softener Sheets
if you prefer to use sheets with plant-based ingredients.
What are your ideas for other uses for dryer sheets?
Check out more articles to find other uses for your favorite products: