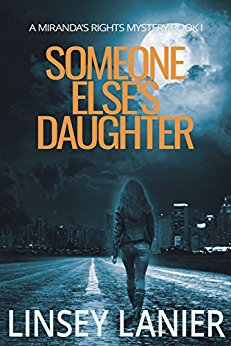 Amazon has Someone Else's Daughter: Book I (A Miranda's Rights Mystery 1) for FREE download to your Kindle. If you don't own a Kindle you can install the Kindle version for your PC, Android, Tablet, etc. and still get all the free books! As always Amazon prices will and do change in an instant so you will want to hurry for this great price! Read more about this book from Amazon's description:
THE SEARCHING MOTHER
Miranda Steele.
Feisty. Independent. Skeptical.
Thirteen years ago her abusive husband stole her baby and gave it up for adoption.
She comes to Atlanta to find her daughter.
THE PI
Wade Parker.
Ace detective.
Wealthy owner of the Parker Investigative Agency.
The most eligible forty-four-year-old bachelor in Atlanta.
Still mourning the death of his socialite wife, he must solve a disturbing murder case.
Before the killer strikes again.
Don't have a Kindle?

This ebook is specifically for Kindles. However, you can download a free application which enables you to read Kindle ebooks on your computer, iphone, Android, Blackberry, iPad and more.
Need a Kindle?
Why pay for books when you can get them free? See more FREE ebook offers!
Product prices and availability are accurate as of the date/time indicated and are subject to change. Any price and availability information displayed on amazon.com at the time of purchase will apply to the purchase of this product.