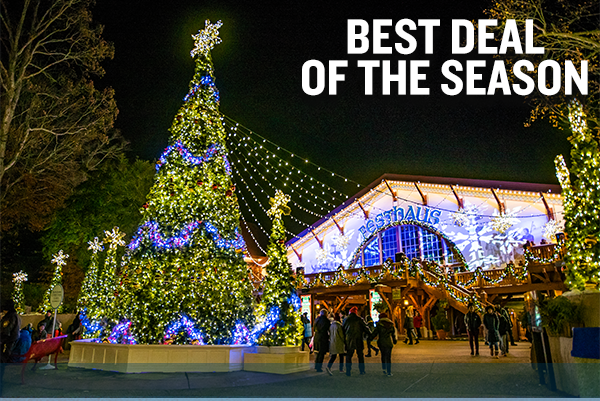 Did you see the Busch Gardens Christmas Town Discount? Save 60% Off Single Day Visit with prices starting at $22.99!  This is pretty much the same price as last year, just a few $ more as ticket prices have increased to $59.99 for a single day visit. You won't see a lower single day ticket offer!
Offer ends November 17th , but you have to pick your day. This has been the case in previous years as well.  There are only so many tickets per day and the cheapest and most popular days will usually sell out first. Prices vary from $22.99-34.99 online.
Please note:
This price is valid online only, for a limited time.
Limit 10 tickets per transaction.
You must pick your day to visit.  Prices vary by day.
Tickets are non-refundable but you may be able to change your date (see below)
This is an online only offer that will not be available at the park. *Limited quantities available per day while supplies last.  Does NOT include parking. Operating days vary, please check schedule before arrival. Parking, taxes and service fees not included with price. Products, prices, hours and services are subject to change or cancellation without notice. Prices are listed are per person.
If you are not able to visit the park on the date that the ticket was purchased for, contact our Customer Service Center at (757) 229-4386 before your anticipated date of visit.
Although Christmas Town tickets are non-refundable, you may be able to change your ticket to another day, subject to availability. You may be charged an upgrade fee.
Click HERE to get your tickets!