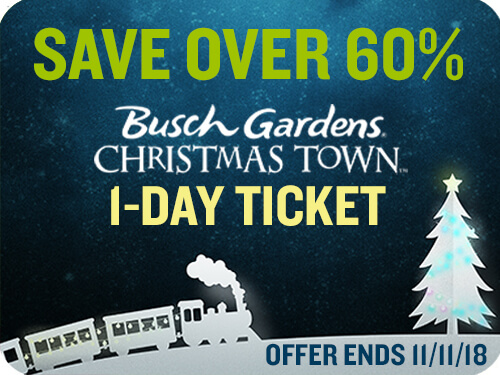 *UPDATE* Prices now vary from $30-49 online
The promo has ended but you can still save money on your visit by purchasing your ticket online.
Hurry and take advantage of the FLASH SALE! Get Busch Gardens Williamsburg Christmas Town tickets starting at only $20! That's a 60% savings and you likely won't see a lower single day ticket offer. Ticket prices will return to $54 after the sale is over.
Click on the calendar to see price by day – Prices vary from $20- $30 thru Nov. 11
The offer ends Nov 11th, but you have to pick your day. This has been the case in previous years as well.  There are only so many tickets per day and the cheapest and most popular days will usually sell out first.
Please note:
This price is valid online only, for a limited time.
Limit 10 tickets per transaction.
You must pick your day to visit.  Prices vary by day.
Tickets are non-refundable but you may be able to change your date (see below)
Reserve your day to come and celebrate the holidays at Busch Gardens Williamsburg. Ticket is only valid for admission to Christmas Town at Busch Gardens Williamsburg for the event date selected and printed on the ticket. Christmas Town is open select days between Nov. 17, 2018 – Jan. 5, 2019. Maximum of ten tickets can be purchased per transaction.
This is an online only offer that will not be available at the park. Savings based on $54 General admission price. Supplies are limited. Does NOT include parking. Guest ticket is valid for ages 3 & up. Operating days vary, please check schedule before arrival. Parking, taxes and service fees not included with price. Products, prices, hours and services are subject to change or cancellation without notice. Prices are listed are per person. Ticket may not be copied, transferred, resold or refunded and is only valid for the person listed on the ticket. Not redeemable for cash. Void if altered. Remains the property of SeaWorld Parks & Entertainment. Will be confiscated or revoked without restitution for misuse. Waves of Honor™ free admission program is not valid for Christmas Town™.
If you are not able to visit the park on the date that the ticket was purchased for, contact our Customer Service Center at (757) 229-4386 before your anticipated date of visit.
Although Christmas Town tickets are non-refundable, you may be able to change your ticket to another day, subject to availability. You may be charged an upgrade fee.
Click HERE to get your tickets!