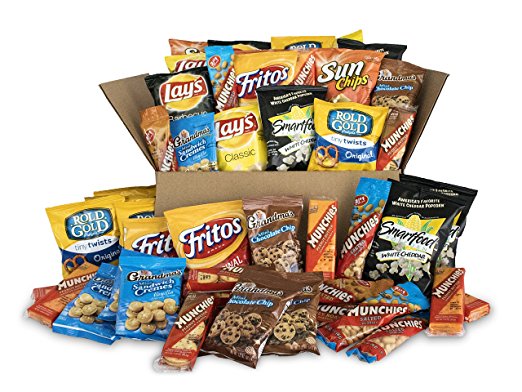 If you have kids, you know they seem to be always asking for a snack.    That's why I've put together this Printable snack coupons list.    It will be updated regularly will all the current coupons.    I've included all types of printable snack coupons, from Oreo's to fruit snacks and organic to gluten free.
Printable Snack Coupons:

$0.50 off 2 Betty Crocker™ Fruit Shapes
$0.50 off ONE CUP any variety Yoplait Dippers
$0.50 off 1 Food Should Taste Good™ Chips
$1.00 off any ONE Carrs Crackers
$0.50 off ONE PACKAGE of any Annies Organic Yogurt
$1.00 off 1 Yoplait Yogurt
$1.00 off any two Dole Fruitocracy or Fruit Bowl
$0.25 off 1 Yoplait Custard Yogurt
$0.30 off 1 Liberte yogurt
$1.00 off any THREE Kelloggs Fruit Flavored Snacks
$1.00 off any two Kettle Brand products
$0.75 off TWO any flavor Yoplait Go GURT Yogurt
$3.00 off one HORMEL Brand

Save 75¢ with purchase of ONE (1) JOLLY TIME® Pop Corn Products Endorsed by Weight Watchers® (Excluding individual microwave bags)

$0.75/2 Kraft Snack Trios; Includes Single Or Three Pack
$1.00/1 Sunshine Cheez-It Baked Snack Product; Any Size; Redeem For 850 Points – KelloggsFamilyRewards.com
$1.00/2 Don't Go Nuts Snack Bars
$1.00/1 Sprout Snacks
$0.55/1 Mama Chia Beverage Or Snack
$1.00/2 Annie's Snacks; Includes: Bunny Fruit Snacks, Organic Orchard Fruit Bites, Really Peely Fruit Tape, Cheddar Bunnies, Cheddar Squares, Classic Crackers, Bunny Grahams, Graham Crackers, Cookies, Mini Cookie Bites, Grabbits Sandwich Cookies, Gluten Free Bunny Cookies, Gluten Free Granola Bars, Chewy Granola Bars, Snack Mix, Pretzels or Popcorn
$1.00/1 Saffron Road Snack Product
$0.75/1 Happy Family Snacks
$1.00/1 Hail Merry Snacks
$1.00/2 Welch's Fruit Snacks, Fruit 'n Yogurt Snacks, or Fruit Rolls – Facebook Coupon
$1.00/1 Totino's Pizza Rolls or Blasted Crusted Rolls; Includes 17.4 oz or Larger Only
Want to know where to use these coupon now that you have them?  Just type in your product HERE and you'll find current sales from your favorite stores.
Did you find other Printable Snack Coupons?  Let us know where we can print them.