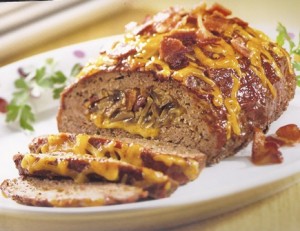 My kids (and hubby) LOVED this recipe.  It reminds me of a hamburger without the bun.  The recipe is from the Pampered Chef Dinner in your Deep Covered Baker cookbook.  There are conventional oven instructions at the bottom of the post if you don't have a deep covered baker.  I also didn't have the BBQ rub, so I improvised with BBQ sauce and it worked okay for us.
*Mine didn't look nearly as good as the picture
8 ounces fresh mushrooms
1 tbsp vegetable oil
6 slices cooked bacon, crumbled, divided
3 slices white sandwich bread, crust removed
1/2 cup 2% milk
1/2 cup finely chopped onion
1/4 cup finely chopped fresh parsley
1 egg yolk
3 tbsp smokey bbq rub, divided
2 garlic cloves pressed
1/2 tsp each salt and coarsely ground black pepper
1 1/2 pounds 85% lean ground beef (I used 93%)
1 1/2 cups shredded sharp cheddar cheese, divided
1/4 cup ketchup
1.  Thinly slice mushrooms. Heat oil in 12-in skillet over medium high heat 1-3 minutes or until simmering. Add mushrooms; cook and stir 3-4 minutes or until mushrooms begin to brown. Remove Skillet from heat. Set aside 1 tbsp of the crumble bacon. Add remaining bacon to mushrooms; mix well.
2.  Meanwhile, cut bread into cubes. In stainless 6-qt mixing bowl, combine bread, milk, onion, parsley, egg yolk, 2 tbsp of the rub, pressed garlic, salt and pepper. Mix well. Add beef to bread mixture; mix. place two-thirds of meat mixture in deep covered baker form into an 8 1/2 by 4 1/2-in loaf. Gently press down the center of the loaf to create a well. Sprinkle 1/2 cup of the cheese in the well. Top with bacon mixture and an additional 1/2 cup of the cheese. Place remaining meat mixture over filling press to seal.
3.  Microwave, covered, on high 14-17 minutes or until internal temperature reaches 145 degrees in the center. Carefully remove baker from microwave, using oven mitts. Meanwhile, combine ketchup and remaining rub; stir. Brush Ketchup mixture over meatloaf. Microwave, covered, on high 3-5 minutes or until internal temperature is 160 degrees in the center. Sprinkle remaining cheese and reserved bacon over top of meatloaf; let stand, covered, 10 minutes before slicing.
Conventional Oven Directions:
Preheat oven to 400 degrees F. Prepare recipe as directed.  Bake, covered, 30-35 minutes or until internal temperature reaches 14 degrees F.  Brush meat loaf with ketchup mixture.  Bake, covered, an additional 5-7 minutes or until internal temperature reaches 160 degrees F.