As temperatures start to warm up, this fresh fruit sorbet recipe will hit the spot. It is a great palette cleanser, a perfect light dessert, and much healthier than store bought. This literally tastes like biting int a fresh, ripe piece of fruit – but even better. PLUS you can feel good about giving this to the kids on a hot day over an unhealthy scoop of processed ice cream.
My favorite combination is Cantaloupe but you can also use; Honeydew, Watermelon, Peaches, Mango's, or Strawberries. Use whatever is fresh and in season for optimum flavor.
This recipe has basically no Weight Watchers points except for the sugar.  Read below to see an alternative to make this a super low point value treat.
Fruit Sorbet Recipe:
Ingredients:
2 cups fresh fruit
¼ cup coconut water
2 Tbsp. Lime juice
¼ cup granulated sugar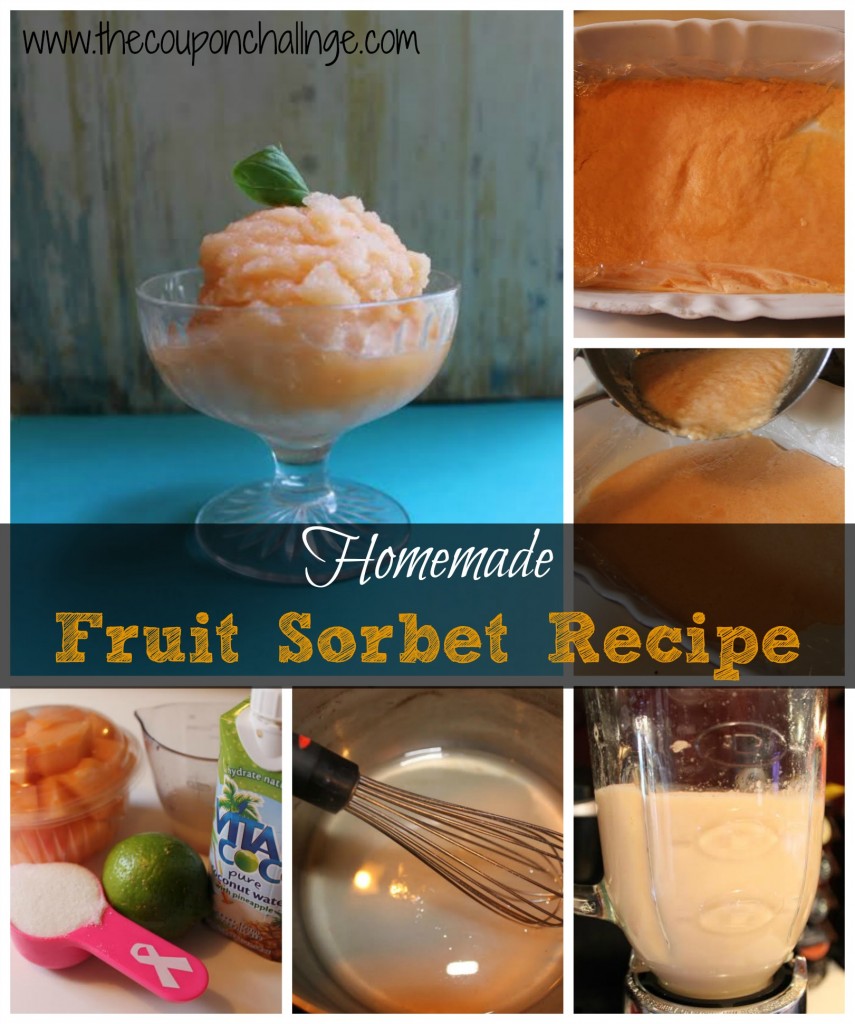 Directions:
Make a simple syrup by combining sugar and coconut water in a small pan over medium high heat, bring to a boil, stirring occasionally.
Remove syrup from heat and allow it to cool completely.
While syrup is cooling put fruit and lime juice in blender or food processor and puree until smooth.
Combine simple syrup and pureed fruit.
Line an 11×7 with saran wrap.
Pour fruit mixture into pan.
Place in freezer until solid.
Remove from freezer, break into small pieces, place in food processor and puree again.
Serve immediately.
Weight Watchers Points:
Total for the entire recipe = 14 SmartPoints and 6 PointsPlus
This would be a zero to 1 point recipe if Splenda was subbed for the sugar as Splenda has no points.  The only points beside the sugar are 0.75 SmartPoints and 0.25 PointsPlus for the coconut water.
What is you favorite fruit sorbet recipe?
You might also like these Whey Protein Smoothie Recipes or Blueberry Smoothie Recipe