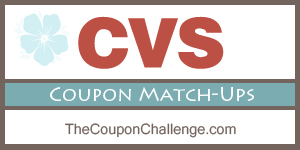 Below are your top weekly CVS deals! Please head over to the CVS coupon matchups page for the complete list of store deals. **Print the official CVS Coupon Policy to keep in your coupon binder.
New to CVS? Read my post on how to save money at CVS to learn how to make the most of your shopping trip.
Visit the CVS coupon kiosk this week to print a $10.00/1 Facial Care Purchase of $40 or More coupon!
CVS ExtraBucks
Get $1 ECB wyb 2 participating Wheat Thins, Triscuit, Ritz or Good Thins; Limit 2
Good Thins, 3.75 – 13.7 oz – $2.50
2/$5 (or $3.19 each)
$0.75/2 Nabisco Cookie or Crackers Products – 12-11-16 SS; Includes 3.5 oz or Larger Only (exp. 01/28/17)

$1.00/3 Nabisco Cookie or Crackers Products – 12-11-16 SS; Includes 3.5 oz or Larger Only (exp. 01/28/17)
Out-of-Pocket Price: $2.13
Final Price: $1.05
Buy 2; Use $0.75/2 coupon; Includes ExtraCare and Checkout 51 savings
Ritz, 3.75 – 13.7 oz – $2.50
2/$5 (or $3.19 each)
$0.75/2 Nabisco Cookie or Crackers Products – 12-11-16 SS; Includes 3.5 oz or Larger Only (exp. 01/28/17)

$1.00/3 Nabisco Cookie or Crackers Products – 12-11-16 SS; Includes 3.5 oz or Larger Only (exp. 01/28/17)
Out-of-Pocket Price: $2.13
Final Price: $1.05
Buy 2; Use $0.75/2 coupon; Includes ExtraCare and Checkout 51 savings
Triscuit, 3.75 – 13.7 oz – $2.50
2/$5 (or $3.19 each)
$0.75/2 Nabisco Cookie or Crackers Products – 12-11-16 SS; Includes 3.5 oz or Larger Only (exp. 01/28/17)

$1.00/3 Nabisco Cookie or Crackers Products – 12-11-16 SS; Includes 3.5 oz or Larger Only (exp. 01/28/17)
Out-of-Pocket Price: $2.13
Final Price: $1.05
Buy 2; Use $0.75/2 coupon; Includes ExtraCare and Checkout 51 savings
Wheat Thins, 3.75 – 13.7 oz – $2.50
2/$5 (or $3.19 each)
$0.75/2 Nabisco Cookie or Crackers Products – 12-11-16 SS; Includes 3.5 oz or Larger Only (exp. 01/28/17)

$1.00/3 Nabisco Cookie or Crackers Products – 12-11-16 SS; Includes 3.5 oz or Larger Only (exp. 01/28/17)
Out-of-Pocket Price: $2.13
Final Price: $1.05
Buy 2; Use $0.75/2 coupon; Includes ExtraCare and Checkout 51 savings
Get $2 ECB wyb 1 participating AXE Gift Set; Limit 1
Out-of-Pocket Price: $6.99
Final Price: $4.99
Buy 1; Use $3.00/1 coupon; Includes ExtraCare savings
Get $2 ECB wyb 1 participating M&M's item; Limit 2
Holiday or original M&M's, 8 – 12.6 oz – $3.00 – 2/$6 or ($3.79 ea with card)
Out-of-Pocket Price: $2.00
Final Price: Free
Buy 2; Use $1.00/2 coupon and $1.00/2 CVS coupon; Includes ExtraCare savings
Get $3 ECB wyb 2 participating Hershey items; Limit 2
Hershey's Holiday Kisses, 7.8 – 15 oz – $3.00 – 2/$6 or ($3.79 ea with card)
$1.00/1 Hershey's Kisses, Nuggets, Miniatures or Reese's, York, Kit Kat or Rolo Candies – 11-20-16 SS; Includes 7.8 oz or larger only (exp. 12/31/17)

$1.00/2 Hershey's Kisses, Hershey's Nuggets, Hershey's Miniatures, Reese's, York, Kit Kat or Rolo – 12-4-16 SS; Includes 7.8 oz or larger only (exp. 12/25/17)
Out-of-Pocket Price: $2.00
Final Price: $0.50
Buy 2; Use (2) $1.00/1 coupons; Includes ExtraCare savings
Get $6 ECB wyb 1 participating Physicians Formula; Limit 3
Physicians Formula Cosmetics – Prices starting at $7.79
Excludes: Eye makeup remover and trial and travel sizes
Get $6 ECB wyb 2 participating Neutrogena MoistureShine Lip; Limit 3
Neutrogena MoistureShine Lip – $4.49
$2.00/2 Neutrogena Products – 11-6-16 SS; Excludes Foot Cream, Trial Sizes, Clearance Products, and Bar Soaps (exp. 01/01/17)
Out-of-Pocket Price: $3.49
Final Price: $0.49
Buy 2; Use $2.00/2 coupon; Includes ExtraCare savings
Beverages
Zico Coconut Water, 16.9 oz – $2.00
2/$4 (or $2.49 each)
Out-of-Pocket Price: $2.00
Final Price: $0.50
Buy 2; Includes Ibotta savings
Home Supplies
Cottonelle Clean Care, 9 roll – $4.99
Stacks With 

$1.00/1 Cottonelle Clean Care, Scott Tube-Free Bath Tissue, or Viva Vantage – CVS Mobile App Coupon; Includes Cottonelle, 9 Roll Only; Scott Bath Tissue, 9 Roll Only; or Viva Vantage, 6 Roll Only; Limit 1 (exp. 12/24/16)
Final Price: $2.99
Buy 1; Use $1.00/1 coupon and $1.00/1 CVS coupon
Xtra Detergent, 51 oz – $1.47