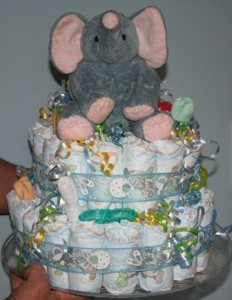 Did you know? On average, each child will use more than 4,000 diapers during the first 3-years! Thanks to The Thrifty Couple for providing our weekly Deal Round-Up to help you spend less!
In-store Diaper Deals
Walgreens
Walgreens has all of the Huggies Jumbo Packs on sale for $9.49 and the Huggies Mega Pack Wipes refill (184-216 ct.) on sale for $5.99 this week with card, 10/7 – 10/13/12.
In additional you will receive 1,000 Balance Rewards points on the new Walgreens rewards program when you buy any two of the above items.
Scenario: Huggies, any
 Buy 1 Huggies jumbo packs packs for $9.49
 Buy 1 Huggies Wipes Mega Pack Refill 184-216 ct. for $5.99 = $15.48
Then use the $1.00/1 Huggies Diapers 9/16/12 SS Insert = $14.48
Then use .40/1 Huggies Wipes coupons from the 09/16 Smart Source Insert Or $1/1 Huggies Baby Wipes, excludes trial All You, OCTOBER 2012 (exp 10/31/2012) = $13.48
Then receive 1,000 Balance Rewards (equal to $1) for buying two qualified Huggies items =  final is $12.48 for both or an average of $6.24 each 
Scenario: Huggies Little Movers Slip Ons
 Buy 1 Huggies Little Movers Slip Ons jumbo packs packs for $9.49
 Buy 1 Huggies Wipes Mega Pack Refill 184-216 ct. for $5.99 = $15.48
Then use the $2.00/1 Huggies Diapers 9/16/12 SS Insert or $2 off  from Huggies Facebook page Easy On Easy Off Promotion or from the Walmart site HERE= $13.48
Then use .40/1 Huggies Wipes coupons from the 09/16 Smart Source Insert Or $1/1 Huggies Baby Wipes, excludes trial All You, OCTOBER 2012 (exp 10/31/2012) = $12.48
Then receive 1,000 Balance Rewards (equal to $1) for buying two qualified Huggies items =  final is $11.48 for both or an average of $5.74 each

Scenario: Huggies Pull-Ups
Scenario: Huggies Goodnites