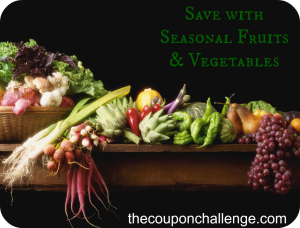 October Seasonal Fruits & Vegetables
The best way to save money on Fruits & Vegetables is to buy what's in season.  Also, you'll want to stockup and freeze some for later use when you come across a good sale so that you can have a variety to choose from through out the year.
Here's what to look for on sale this month at your local Grocery Store and Farmers Markets:
FRUITS
VEGETABLES
Apples
Cantaloupe
Cranberries
Grapes
Pears
Pumpkins
Beets
Bell Peppers
Broccoli
Brussels Sprouts
Cauliflower
Chard
Eggplant
Sweet Potatoes
Turnips
Winter Squash
Zucchini
*** In case you missed it, Coupons.com had a high value coupon out for $1.00/1 Ocean Spray Cranberries.