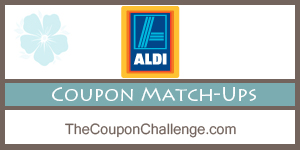 The Aldi Mid-Atlantic Deals have been updated! Please see the Aldi Deals Page for the complete list of sale ad deals.
Aldi's Stores do not accept coupons!
Bring a quarter as a deposit to get a cart. The quarter is reimbursed to you when the cart is returned.
Bring in your own reusable grocery bags or you'll be charges a small fee at checkout.
Most products sold at Aldi are store brand or private label.
Aldi has a Double Guarantee if for any reason you are not 100% satisfied, they will replace the product AND refund your money.
Aldi Mid-Atlantic covers: DC, West Virginia, Virginia, Maryland, Pennsylvania
See Aldi Policy here.
Aldi will be open from 9:00am to 4:00pm on 7/4/2016
Beverages
Nature's Nectar Raspberry Lemonade or Lemonade, 59 oz – $1.49
PurAqua Purified Drinking Water, 24 ct 16.9 oz – $2.09
Bread & Bakery
L'oven Fresh Buns, 12 oz – $0.69
Hot Dog or Hamburger
Cookies, Snacks & Candy
Clancy's Potato Chips, 9.5 – 10 oz – $1.49
Original, Barbecue, Sour Cream & Onion or Wavy.
Home Supplies
Hefty 6-Gallon Under-the-Sink Wastebasket – $4.99
Meat, Poultry & Fish
Beef, Ground, 80% Lean, per lb – $2.29
6/29 – 7/4
Chicken, Breast, per lb – $1.69
Starts Wednesday, 6/295 lb average weight
Chicken, Thighs, per lb – $0.99
Parkview Hot Dogs, 12 oz – $0.79
Produce
Cherries, 1 lb bag – $1.89
Corn, Sweet, 4 ct – $1.49
Refrigerated
Little Salad Bar Tuna or Egg Salad, 12 oz – $2.69