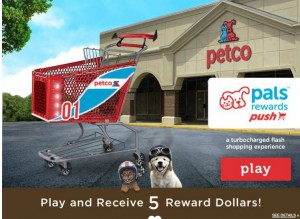 Free $5 in Petco Pal Rewards!!
Have you played this fun game yet?  Head over and "Like" Petco on Facebook and play the Pals Push Rewards game.  You push the cart around the store collecting points and you receive $5 in Free Petco Pal Rewards.  I've played and earned the $5 and it's actually pretty fun!
So go ahead and give it a try!  You have nothing to lose!