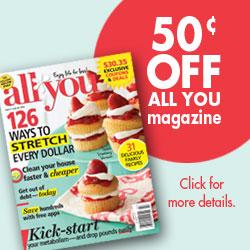 Harris Teeter is advertising $0.50 off All You Magazine!  The price should be $2.49 in-stores since the regular retail price is $2.99 per issue.  If you don't have a subscription or want to pick up an extra, this will save you a bit more.
All You is full of high-value manufacturer coupons. The value of coupons in each issue far outweighs the cost of the magazine itself. You will more than make your money back in coupons with each issue. Not only is the All You Magazine filled with money-saving coupons; you'll find budget advice, success stores/tips, affordable clothing and more!
See all the Harris Teeter Deals this week!