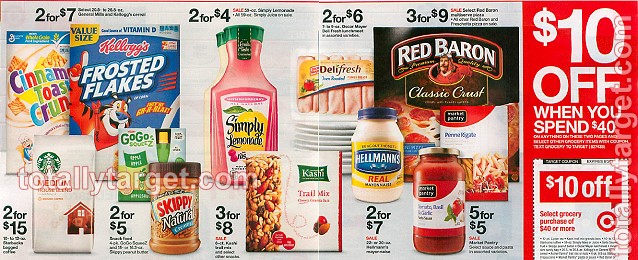 Calling all Target Shoppers!
If you text GROCERY to TARGET (827438) you'll get a mobile coupon good for $10 off $40 of Selected Grocery Items (expires 8/3)! Woohoo!
The coupon comes with a long list of eligible items:
 Lipton Tea 12 pk,
Kashi Trail Mix Granola Bars,
Starbucks Coffee 10-12 oz or Frappuccino 9.5 oz 4 pk,
Simply Ades or Juice 59 oz,
GoGo Squeez Fruit,
Skippy Peanut Butter,
Oscar Mayer Lunchmeat,
Value Size Candy Bags,
Kellogg's or General Mills 20.5-26.8 oz Cereal,
Archer Farms Trail Mix or Nuts,
Market Pantry Pasta or Sauce,
Red Baron or Freschetta Pizza,
Hellmann's or Best Foods Mayonnaise,
MiO or Crystal Light Water Enhancer,
Arrowhead, Deer Park, Ice Mountain, Ozarka, Poland Springs or Zephyrhills 16.9 oz 24 pk,
A&W, Canada Dry, Diet Rite, Dr. Pepper, RC Cola, Schweppes, Sundrop, Sunkist, Vernors, Tahitian Punch, Cactus Cooler, Country Time, Hawaiian Punch, 7 Up, Squirt or Welch's Soda 12 pk 12 oz.!
And, if you wait until tomorrow, you can score another $10/$40 in the Sunday paper Target circular, too 😀
Let me know if you come up with any sweet scenarios/coupon matchups. This is a great coupon.
Thanks, Totally Target for the deal and photo!