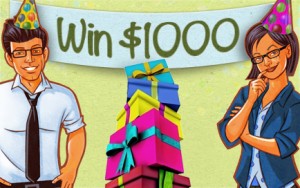 HAPPY 4th BIRTHDAY SWAGBUCKS!
Swagbucks is turning 4 today.  In celebration, new members can sign-up and get 140 Swagbucks!
How to get the 140 Swagbucks:
Sign-up for Swagbucks and earn 30 Swagbucks just for joining.
Then enter BIRTHDAYBASH12 in the code box.  You'll get an additional 110 Swagbucks when you click the "Gimme" button! The code is only valid when entered during the sign up process!
There is also a Swag Code extravaganza going on today – 130 Swag Bucks in codes will be given out over the course of 24 hours!
My favorite prize is a $5 Amazon Gift Card!I rarely pay for anything on Amazon anymore.  I just save up my gift cards then shop!