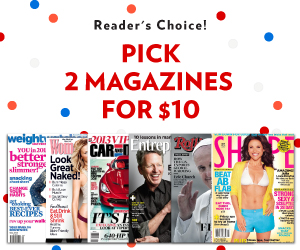 This weekend get 2 Magazines for $10! There are a bunch of titles below to choose from!
Start: Saturday 04/12/14 12:00 AM
End: 04/13/14 11:59 PM
Auto Category

Boating World
Car and Driver
Road & Track
Car Craft
Hot Rod
Motor Trend
Motorcyclist
Four Wheeler
Automobile
Super Chevy
Truckin'
Boating
Cycle World
Sport Rider
4 Wheel & Off Road
Muscle Mustangs & Fast Fords

Business & News Category

The Atlantic
Black Enterprise
Entrepreneur
Fast Company
Home Business
INC
American Prospect
Popular Science

Food & Beverage Category

Diabetic Cooking
Nutrition Health Review
Saveur
Wine Enthusiast

Health & Fitness Category

Flex
Life Extension
Men's Fitness
Muscle & Fitness
Natural Health
Running Times
Shape
Spirituality & Health
Weight Watchers
Runner's World
Women's Health
Yoga Journal

Home & Garden Category

Log Home Living
Old House Journal
Timber Home Living
Country Living
Good Housekeeping
Town & Country
Elle Decor
Dwell
Midwest Home
New York Spaces
Fairfield Living
At Home In Fairfield County

Hunting & Fishing Category

Bassmaster
Bowhunting World
Cabelas Outfitter Journal
Field & Stream
Predator Xtreme
Sport Fishing
Whitetail Journal
Outdoor Life
Bowhunt America
Florida Sport Fishing
Waterfowl & Retriever
Salt Water Sportsman

Lifestyle & Fashion Category

Complex
Ebony
Elle
Jet
Latina
Maxim
Nylon
Esquire
Seventeen
Cosmopolitan
Harper's Bazaar
Marie Claire
O, The Oprah Magazine
Woman's Day
Nylon Guys
Time Out New York

Local Category

Atlanta
Cincinnati
Orange Coast
Phoenix
Tampa Bay
Texas Parks & Wildlife
Los Angeles
Texas Monthly
Chicago
Boston
New York
Greenwich

Photography Category

Outdoor Photographer
American Photo
Popular Photography
Digital Photo

Sports & Rec Category

Golfweek
Tennis
SKI
Backpacker
Bicycling
Golf Tips
Slam
Surfer
Click HERE to get the offer.
Make sure to use coupon code COUPONCHALLENGE at checkout to get this price! You can also save 20% off all other magazine subscriptions with this coupon code.