Disclosure: This is a sponsored post from Dollar Tree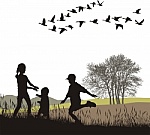 Summertime is a great time to relax, but it's also a good time to get organized. All you need is a little bit of motivation and some cheap office supplies from the discount store. You don't need to tell anyone you're on a mission, just do it. Here are 3 easy ways to get organized for the summer. You can organize activities, organize your coupon finds and organize your house.
Organize Your Activities
There will be lots of activities for your kids to enjoy, but if you don't plan it out early, you'll probably miss out on a lot of them. Use a large wall calendar. You can get one from school supplies section of the discount store. Put it up for everyone to see and add in all of the activities. Even if you already have something online, this makes it easier for the little ones to see what's coming up in the next few days, weeks and months. Build it into your routine. Use stickers and colored markers to make your calendar more interesting.
Organize Your Coupons
Depending on the type of couponing you do, you probably have a multitude of coupons. They're an important part of staying on budget, but they can get messy quickly. In fact, they've probably outgrown your previous efforts at keeping them in one place. Have a round-up and create a new place to stash them all. Pick up a binder at the discount store. You'll be able to organize them by type, product or expiration date. Let the kids help you, so they can learn your system and understand the value of finding and getting good deals.
Organize Your House
If you're tired of the clutter that always seems to crop up when everyone is home from school at the same time, make a change. This project will probably take a few days or a few weeks. Remember, it didn't get cluttered overnight. Start one room at a time. Throw away, recycle or put away what you haven't used in the past two days. Use multipurpose plastic storage baskets in an assortment of sizes to clear out the clutter until you need what's inside. This is also a great way to save some money, since you'll probably find quite a few things you've lost or forgot you had.
Nikki is an independent writer for DollarTree.com. Dollar Tree offers great deals on office supplies, party supplies and more.