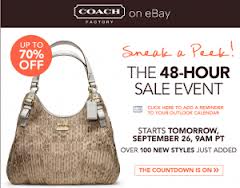 Reminder – Ends Today
I have a love of Coach Purses, so I'm excited to see what this sale has to offer.  Starting today, Ebay Fashion is having a 2-day Coach sale!  There is supposed to be a large selection of bags to choose from.
How to get the deal:
1.  Sign up for Ebay Fashion for FREE.  (Use your coupon e-mail address)
2.  One you sign up make sure you are on the waiting list.
3.  Start shopping.
There are a few rules:
This sale includes a limit of 10 total Coach items per customer, with an additional limit of 5 signature items only.
EVENTS ARE FOR A LIMITED TIME AND BY INVITATION ONLY
PLEASE NOTE THAT REGISTERING DOES NOT GUARANTEE ENTRANCE TO FUTURE EVENTS
There is also free shipping on orders over $125!
I haven't had a chance to sign-up, but I wanted to post so you all didn't miss out on the sale.
Thanks, My Litter!