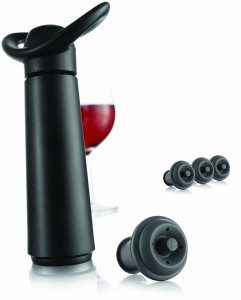 The Vacu Vin Concerto 5-Piece Wine Saver Set with 4 Stoppers
could make a great gift! The price is reduced to $11.99 – was $29.99 and received 4.4 stars!
Pumps air from bottle to keep opened wine fresh up to two weeks
Indicator clicks when correct vacuum level is reached
Stoppers fit all sizes of wine bottles
Pump measures 6 inches high
Your order will qualify for FREE shipping with Super Saver Shipping on orders over $25 or with Amazon Prime.
Product prices and availability are accurate as of the date/time indicated and are subject to change. Any price and availability information displayed on amazon.com at the time of purchase will apply to the purchase of this product.