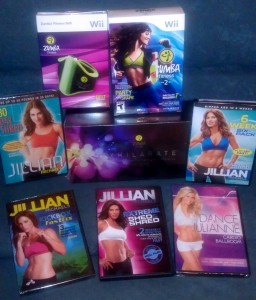 I'm reposting this as I eat an oatmeal cookie and drink coffee 🙂
Eat too many Christmas cookies this week?  Take a look at all these great fitness DVD's from Jillian Michaels.  I have friends that swear by these videos.
Jillian Michaels – 30 Day Shred
$6.99-save 53%!
Jillian Michaels: 6 Week Six-Pack
$5.87-save over 60%!
Jillian Michaels Kickbox FastFix
$9.67-save 32%!
Jillian Michaels Extreme Shed & Shred
$8 -save 47%!
Dance with Julianne: Cardio Ballroom
$4.69-save 69%!
Jillian Michaels: No More Trouble Zones
$7.32 – save 51%!
Zumba Exhilarate Body Shaping System DVD Set
$99.95-save 23%!
Zumba Fitness 2
$39.12
*Prices keep changing slightly.
Your order will qualify for FREE shipping with Super Saver Shipping on orders over $25 or with Amazon Prime.
Product prices and availability are accurate as of the date/time indicated and are subject to change. Any price and availability information displayed on amazon.com at the time of purchase will apply to the purchase of this product.
Thanks, Mom on Dealz!