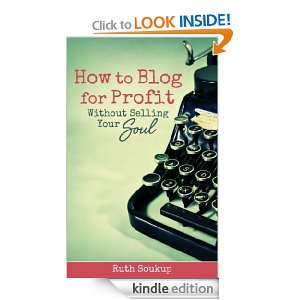 Hurry over to Amazon to purchase How to Blog for Profit (Without Selling Your Soul)
for just $0.99 from my blogging buddy Ruth.
Ruth has a lot of great information for bloggers and those wanting to start a blog. It has amazing reviews, so I would definitely purchase this book on blogging!  The price is just $0.99 during the release, but will increase to $4.99 tomorrow.
Don't have a Kindle?

This ebook is specifically for Kindles. However, you can download a free application which enables you to read Kindle ebooks on your computer, iphone, Android, Blackberry, iPad and more.
Need a Kindle?
Product prices and availability are accurate as of the date/time indicated and are subject to change. Any price and availability information displayed on amazon.com at the time of purchase will apply to the purchase of this product.