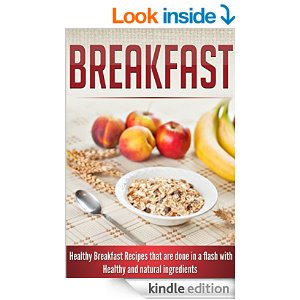 Amazon has Breakfast: Healthy Breakfast Recipes that are Done in a Flash with Healthy and Natural Ingredients
by Samantha Woods available for FREE right now.
Eating a nutritious and tasty breakfast every day will surely put a spring in your step! This book was written especially for those who would like to enjoy their mornings with a different breakfast meal every day. It was also written for those who would like to start living a healthy lifestyle and not skip the most important meal of the day anymore.

In this book you will learn the importance of eating a healthy breakfast and how to make healthy breakfast choices. You will also get plenty of breakfast ideas to last you for weeks!
Don't have a Kindle?

This ebook is specifically for Kindles. However, you can download a free application which enables you to read Kindle ebooks on your computer, iphone, Android, Blackberry, iPad and more.
Need a Kindle?
Why pay for books when you can get them free? See more FREE ebook offers!
Product prices and availability are accurate as of the date/time indicated and are subject to change. Any price and availability information displayed on amazon.com at the time of purchase will apply to the purchase of this product.