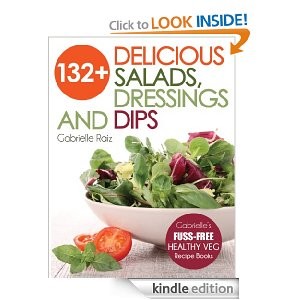 Today's FREE ebook is 132+ Delicious Salads, Dressings And Dips (Gabrielle's FUSS-FREE Healthy Veg Recipes)
by Gabrielle Raiz.
From the jaw droppingly simple to wonderfully inventive creations, you can (re-) inject some healthy magic into your mealtimes. No matter what your food preferences are – omnivore, vegetarian, vegan, raw-food, 'paleo' or meat eater, you'll discover how to transform salads into must-have meals and tasty side dishes. Making sensational salads, delicious dressings and delectable dips is one sure fire way to delight your taste buds – easily!
Don't have a Kindle?

This ebook is specifically for Kindles. However, you can download a free application which enables you to read Kindle ebooks on your computer, iphone, Android, Blackberry, iPad and more.
Need a Kindle?
Why pay for books when you can get them free? See more FREE ebook offers!
Product prices and availability are accurate as of the date/time indicated and are subject to change. Any price and availability information displayed on amazon.com at the time of purchase will apply to the purchase of this product.