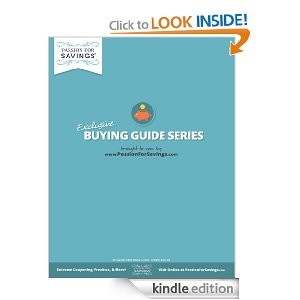 Through tomorrow, you can download 2013 Grocery Buying Guide
by Heather Schisler (Passion for Savings) for FREE on Amazon. The price will increase to $2.99 on March 1st.
The 2013 Grocery Buying Guide covers sales cycles and how to cut your grocery bill by up to 50% just by shopping sales cycles at your local grocery stores. There is also a buying guide and savings tips listed for each month during the year featuring all of the best items to buy each month.

Saving money is about more than using coupons, by following sales cycles and buying items that are in season you can easily save 30-50% on your grocery bill without clipping a coupon.
Don't have a Kindle?
This ebook is specifically for Kindles. However, you can download a free application which enables you to read Kindle ebooks on your computer, iphone, Android, Blackberry, iPad and more.
You can also download the same FREE ebooks for the Nook over at the Barnes & Nobles site!
Why pay for books when you can get them free? See more FREE ebook offers!
Product prices and availability are accurate as of the date/time indicated and are subject to change. Any price and availability information displayed on amazon.com at the time of purchase will apply to the purchase of this product.