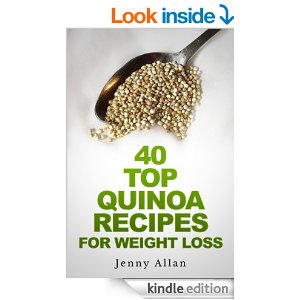 Download 40 Top Quinoa Recipes For Weight Loss
by Jenny Allan FREE on Amazon. The regular price is $2.99 and can change back at any time.
Are you looking for a delicious gluten-free carbohydrate that is easy to prepare? Do you need to be extra careful with your diet and eat food packed full of the right nutrients?

Quinoa is gluten-free, high in fiber, protein and low in fat and calories. It is the ideal food for people with diabetes mellitus, heart or kidney disease, anaemia and gluten intolerance. Quinoa is full of essential vitamins and minerals and all of the amino acids, making it a complete protein food.
Don't have a Kindle?

This ebook is specifically for Kindles. However, you can download a free application which enables you to read Kindle ebooks on your computer, iphone, Android, Blackberry, iPad and more.
Need a Kindle?
Why pay for books when you can get them free? See more FREE ebook offers!
Product prices and availability are accurate as of the date/time indicated and are subject to change. Any price and availability information displayed on amazon.com at the time of purchase will apply to the purchase of this product.