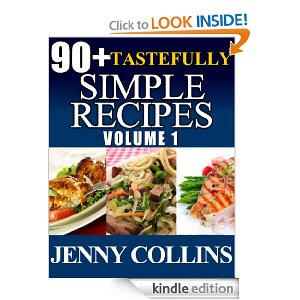 Today's FREE ebook is 90+ Tastefully Simple Recipes Volume 1: Chicken, Pasta, Salmon Box Set!
by Jenny Collins.
Contains a wonderful selection of 31 Boneless Chicken Breast Recipes to try out in your own home, especially if you are a busy person as the majority of these recipes can be prepared and cooked in less than an hour.

Chicken breasts are very healthy and lean, especially when cooked without the skin. When cooking with boneless chicken breasts there is sure to be a recipe to please most palates in this book.

These recipes are suitable for simple suppers on a week night or as a delicious dish for a weekend dinner party.

Below is a selection of the Tasty Boneless Chicken Breast Recipes:-

Foil Baked Chicken Breasts with Creamy Cannellini Beans

A Rosemary Infused Mascarpone Stuffed Chicken Breast

Quick and Easy Lemon Chicken

Hot and Sour Asian Inspired Chicken

Quick and Easy Chicken Casserole

Chicken, Bacon and Basil Picnic Rolls

Foil Baked Chicken Breasts with A Herby White Wine and Mushroom Sauce

Chicken and Roasted Vegetables Cooked Mediterranean Style
Don't have a Kindle?

This ebook is specifically for Kindles. However, you can download a free application which enables you to read Kindle ebooks on your computer, iphone, Android, Blackberry, iPad and more.
Need a Kindle?
Why pay for books when you can get them free? See more FREE ebook offers!
Product prices and availability are accurate as of the date/time indicated and are subject to change. Any price and availability information displayed on amazon.com at the time of purchase will apply to the purchase of this product.