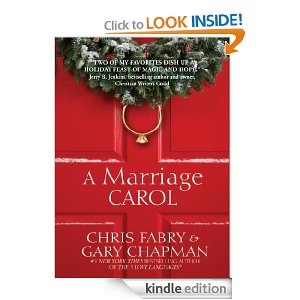 Your FREE ebook today has a $9.99 value – A Marriage Carol
by Gary D. Chapman!
On Christmas Eve twenty years earlier, Marlee and Jacob were married in a snowstorm.   This Christmas Eve, they are ready to quit, divorce is imminent. Their relationship is as icy as the road they're traveling and as blocked with troubles as the piling snow. They take a shortcut to get to the lawyer's office, on a slippery, no-fault path. She thinks they need to stay on the main road. He disagrees. They fight. Story of their lives and they slam into a bank of snow , spinning, drifting, falling, out of control. Just like their lives. Reluctantly, freezing cold, hungry, scared, she trudges up the hill. Jacob is nowhere to be found. Her ears frozen, fingers and hands red, she comes to a house on the hillside, built like a Bed and Breakfast, a green wreath on the red door and the door-knocker is in the shape of a wedding ring.
Don't have a Kindle?
This ebook is specifically for Kindles. However, you can download a free application which enables you to read Kindle ebooks on your computer, iphone, Android, Blackberry, iPad and more.
You can also download the same FREE ebooks for the Nook over at the Barnes & Nobles site!
Why pay for books when you can get them free? See more FREE offers!
Product prices and availability are accurate as of the date/time indicated and are subject to change. Any price and availability information displayed on amazon.com at the time of purchase will apply to the purchase of this product.