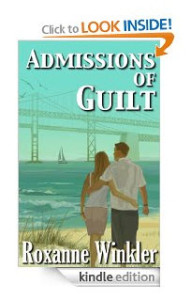 Today's FREE kindle book is Admissions of Guilt by Roxanne Winkler
.  The regular price is $2.99 and can change back at any time.
Alexa Kincaid is living the American dream. She is married to David Cooper, a handsome pediatrician, has a successful criminal law practice, and a beautiful home on the Chesapeake Bay. But her dreams are soon shattered when she finds out that the woman she's representing in the biggest trial of her career, Rachel Mills, reveals a secret that threatens her marriage to David. It will take all of Alexa's strength to set aside her personal feelings for a woman she so desperately wants to hate, in order to successfully defend her in court. Along the way, Alexa learns some powerful lessons about love, guilt, and jealousy. Upon searching the depths of her own soul to find the true meaning of forgiveness, she receives a gift from Rachel that changes her life forever.
Don't have a Kindle?
This ebook is specifically for Kindles. However, you can download a free application which enables you to read Kindle ebooks on your computer, iphone, Android, Blackberry, iPad and more.
You can also download the same FREE ebooks for the Nook over at the Barnes & Nobles site!
Why pay for books when you can get them free? See more FREE offers!
Product prices and availability are accurate as of the date/time indicated and are subject to change. Any price and availability information displayed on amazon.com at the time of purchase will apply to the purchase of this product.