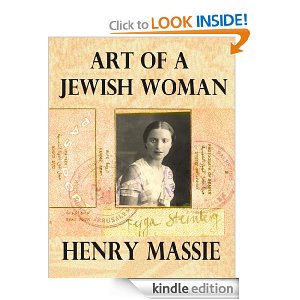 Today's FREE ebook is Art of a Jewish Woman: the True Story of How a Penniless Holocaust Escapee Became an Influential Modern Art Connoisseur (formerly titled Felice's Worlds)
by Henry Massie.
Art of a Jewish Woman is a memoir and biography of Massie's mother, a brilliant and beautiful woman who escaped the Holocaust and participated in many of the most critical periods of the 20th Century. One part historical biography, weaving World War II era European cultural relationships with the history of Modern Art, and one part inspirational romance, it paints a vivid portrait of Felice as an indomitable spirit, her boldness and resilience a beacon of hope.
Don't have a Kindle?

This ebook is specifically for Kindles. However, you can download a free application which enables you to read Kindle ebooks on your computer, iphone, Android, Blackberry, iPad and more.
Need a Kindle?
Why pay for books when you can get them free? See more FREE ebook offers!
Product prices and availability are accurate as of the date/time indicated and are subject to change. Any price and availability information displayed on amazon.com at the time of purchase will apply to the purchase of this product.