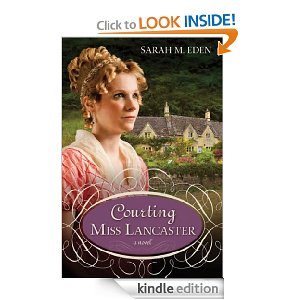 Today's FREE ebook is Courting Miss Lancaster
by Sarah M. Eden.
Harry Windover adores blonde, green-eyed Athena Lancaster, but alas, a penniless man like himself has no hope of winning a young noblewoman's hand. To add insult to injury, Athena's brother-in-law and guardian, the Duke of Kielder, has asked Harry to assist Athena in finding the gentleman of her dreams. But the lovesick Harry is cunning as well: as the weeks pass, he introduces Athena to suitors who are horrifically boring, alarmingly attached to their mothers, downright rude, astoundingly self-absorbed, and utterly ridiculous. Athena can't comprehend why she is having so little success meeting eligible and acceptable gentlemen. Indeed, her circle of admirers couldn't be less admirable — nothing like the loyal, gentle friend she's found in Harry. But how long can Harry's scheme be hidden before it is discovered? And what will Athena do when she uncovers Harry's deception? Escape into a charming regency world in this delightfully romantic comedy of manners that will entertain you to the very last word.
Don't have a Kindle?

This ebook is specifically for Kindles. However, you can download a free application which enables you to read Kindle ebooks on your computer, iphone, Android, Blackberry, iPad and more.
Need a Kindle?
Why pay for books when you can get them free? See more FREE ebook offers!
Product prices and availability are accurate as of the date/time indicated and are subject to change. Any price and availability information displayed on amazon.com at the time of purchase will apply to the purchase of this product.