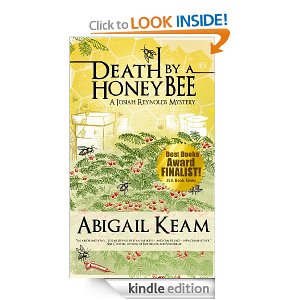 Today's FREE ebook is Death By A HoneyBee (Josiah Reynolds Mystery 1) (A Josiah Reynolds Mystery)
by Abigail Keam.
Josiah Reynolds is a beekeeper trying to stay financially afloat by selling honey at the Farmers' Market. She finds her world turned upside down when a man is found dead in her beeyard, only to discover that the victim is her nemesis.

The police are calling the brutal death murder and Josiah is the number one suspect! Josiah makes the rounds of quirky characters that can only be found in the lush Bluegrass horse country. Fighting an unknown enemy in the glamorous world of Thoroughbreds, oak-cured bourbon and antebellum mansions, Josiah struggles to uncover the truth in a land that keeps its secrets well.
Don't have a Kindle?
This ebook is specifically for Kindles. However, you can download a free application which enables you to read Kindle ebooks on your computer, iphone, Android, Blackberry, iPad and more.
You can also download the same FREE ebooks for the Nook over at the Barnes & Nobles site!
Why pay for books when you can get them free? See more FREE offers!
Product prices and availability are accurate as of the date/time indicated and are subject to change. Any price and availability information displayed on amazon.com at the time of purchase will apply to the purchase of this product.