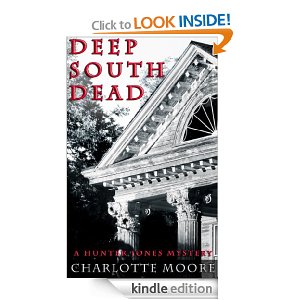 Today's FREE ebook is Deep South Dead (Hunter Jones Mystery)
by Charlotte Moore.
Looking for peace and quiet to write a novel, Hunter Jones left Atlanta for a job at a weekly newspaper in Merchantsville, Georgia, a town so small that everybody knows everybody else's business. She quickly discovers that gossip travels faster than the press can run, and she's a bit of an outsider looking in until she goes to a grand old mansion for an interview with the president of the historical society, only to find that a murderer got there first. Now, if she can only get Sheriff Sam Bailey to take her hunches seriously…
Don't have a Kindle?

This ebook is specifically for Kindles. However, you can download a free application which enables you to read Kindle ebooks on your computer, iphone, Android, Blackberry, iPad and more.
Need a Kindle?
Why pay for books when you can get them free? See more FREE ebook offers!
Product prices and availability are accurate as of the date/time indicated and are subject to change. Any price and availability information displayed on amazon.com at the time of purchase will apply to the purchase of this product.