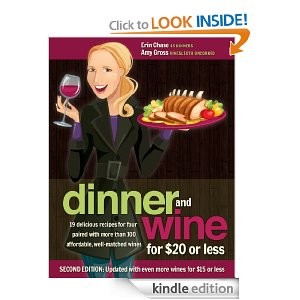 Today's FREE ebook is Dinner and Wine for $20 or Less
by Amy Gross & Erin Chase.
Dinner & Wine for $20 or Less matches 19 easy-to-make delicious dinners for four that can be made for $5 each, with more than 125 fantastic, affordable and easy-to-find wines for just $15 or less per bottle.
This latest edition includes a section on pairing chocolate and wine for a special dessert at home anytime.
Each recipe in Dinner & Wine for $20 or Less was developed by cookbook author and mom blogger $5 Dinner Mom, Erin Chase, and paired with wines by a team of winelovers.
Recipes include:
Chive-Crusted Beef Roast with Creamy Horseradish-Chive Sauce
Crockpot Country Ribs with Mashed Potatoes
Beef Stroganoff
Grilled Sage Chicken Packets
Italian Stuffed Shells
Tilapia Scampi
and wine and chocolate pairing tips
Don't have a Kindle?
This ebook is specifically for Kindles. However, you can download a free application which enables you to read Kindle ebooks on your computer, iphone, Android, Blackberry, iPad and more.
You can also download the same FREE ebooks for the Nook over at the Barnes & Nobles site!
Why pay for books when you can get them free? See more FREE offers!
Product prices and availability are accurate as of the date/time indicated and are subject to change. Any price and availability information displayed on amazon.com at the time of purchase will apply to the purchase of this product.