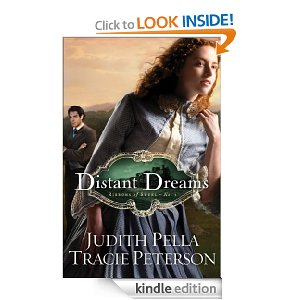 Today's FREE ebook is Distant Dreams (Ribbons of Steel Book #1)
by Judith Pella.
The year is 1835 and Carolina Adams finds herself enchanted by an unlikely suitor…the railroad. Frustrated by society's expectations upon her gender, she longs to study more masculine subjects and is thrilled when her father grants her a tutor.
Don't have a Kindle?

This ebook is specifically for Kindles. However, you can download a free application which enables you to read Kindle ebooks on your computer, iphone, Android, Blackberry, iPad and more.
Need a Kindle?
Why pay for books when you can get them free? See more FREE ebook offers!
Product prices and availability are accurate as of the date/time indicated and are subject to change. Any price and availability information displayed on amazon.com at the time of purchase will apply to the purchase of this product.