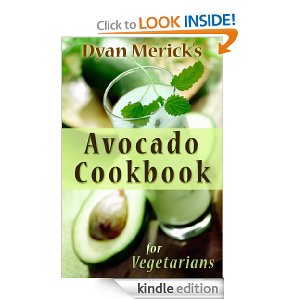 Today's FREE ebook is Dyan Merick's Avocado Cookbook for Vegetarians: 62 Recipes Using this Delicious Superfood
by Dyan Merick.
Guacamole is a must-have for any tailgate party, Super Bowl bash or backyard BBQ, but that isn't the only thing the irresistible avocado is good for. With its creamy, buttery texture and rich, almost nutty taste, this amazing superfood is the perfect ingredient for a host of delectable and healthy meals.

Among her 62 recipes, Dyan Merick cooks up a full selection of breakfasts, salads, soups, lunches and snacks, main entrées, side dishes and desserts for you.
Don't have a Kindle?

This ebook is specifically for Kindles. However, you can download a free application which enables you to read Kindle ebooks on your computer, iphone, Android, Blackberry, iPad and more.
Need a Kindle?
Why pay for books when you can get them free? See more FREE ebook offers!
Product prices and availability are accurate as of the date/time indicated and are subject to change. Any price and availability information displayed on amazon.com at the time of purchase will apply to the purchase of this product.