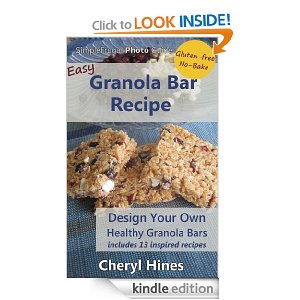 Today's FREE ebook is Easy Granola Bar Recipe (SimpleFrugal Photo Guides)
by Cheryl Hines.
To make them extra special, you can add yummy things like chocolate, coffee, spices and flavors.
Included are some of my family's favorites:
Peanut Butter Crunch
Praline Crunch Bar
Mocha Almond Crunch
Triple Chocolate Bars
Just Nuts!
Trail Mix Bar
Cranberry White Chocolate Bars
Liberty Bars
Raw Power Bar
Almond Bliss Bars
Ginger Snap Bars
Marshmallow Dump Bars
Don't have a Kindle?

This ebook is specifically for Kindles. However, you can download a free application which enables you to read Kindle ebooks on your computer, iphone, Android, Blackberry, iPad and more.
Need a Kindle?
Why pay for books when you can get them free? See more FREE ebook offers!
Product prices and availability are accurate as of the date/time indicated and are subject to change. Any price and availability information displayed on amazon.com at the time of purchase will apply to the purchase of this product.