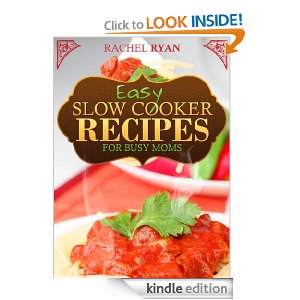 Today's FREE ebook is Easy Slow Cooker Recipes For Busy Moms (Healthy Slow Cooker Recipes)
by Rachel Ryan. I love using my slow cooker, especially in the summer so I downloaded this book!
The goal of feeding a family is providing healthy food that you can feel good about preparing and serving. Processed foods are an easy answer, but their nutrient value is lower, and their sodium content is generally higher than home-cooked meals. This collection strives to provide a wide variety of options using very few processed items. That said, there are some items such as soup stocks and tomato sauce that are used. As a result, I've included a brief prologue with some basic recipes for kitchen staples that you can make ahead.
Don't have a Kindle?

This ebook is specifically for Kindles. However, you can download a free application which enables you to read Kindle ebooks on your computer, iphone, Android, Blackberry, iPad and more.
Need a Kindle?
Why pay for books when you can get them free? See more FREE ebook offers!
Product prices and availability are accurate as of the date/time indicated and are subject to change. Any price and availability information displayed on amazon.com at the time of purchase will apply to the purchase of this product.