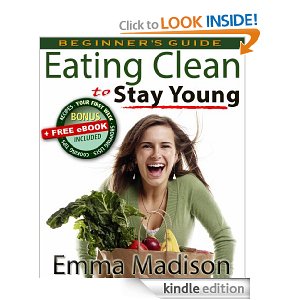 Today's FREE ebook is Eating Clean to Stay Young: for Youthful Energy, Ideal Weight and Disease-Free Health
by Emma Madison.
Emma Madison shows you exactly how to turn your body around and insulate it from harmful additives and health wrecking eating habits that are pushing you to an early grave. Learn how easy it is to shift your thinking so you can quickly and safely strip off your extra weight and regain your youthful energy and general health.
Don't have a Kindle?

This ebook is specifically for Kindles. However, you can download a free application which enables you to read Kindle ebooks on your computer, iphone, Android, Blackberry, iPad and more.
Need a Kindle?
Why pay for books when you can get them free? See more FREE ebook offers!
Product prices and availability are accurate as of the date/time indicated and are subject to change. Any price and availability information displayed on amazon.com at the time of purchase will apply to the purchase of this product.