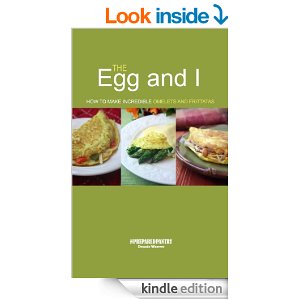 Today's FREE ebook is The Egg and I: How to Make Incredible Omelets and Frittatas
by Dennis Weaver.
This is not your ordinary e-book!

It has recipe ideas for 31 different scrumptious omelets, omelets you won't find anywhere else and more than in $30 recipe books. Plus it tells you how to make them and gives video instruction.

So start making omelets like a pro.

You can eat them for breakfast, lunch, and dinner.
Don't have a Kindle?

This ebook is specifically for Kindles. However, you can download a free application which enables you to read Kindle ebooks on your computer, iphone, Android, Blackberry, iPad and more.
Need a Kindle?
Why pay for books when you can get them free? See more FREE ebook offers!
Product prices and availability are accurate as of the date/time indicated and are subject to change. Any price and availability information displayed on amazon.com at the time of purchase will apply to the purchase of this product.