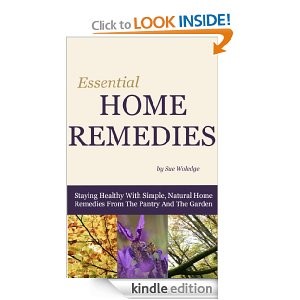 Today's FREE ebook is Essential Home Remedies: Staying Healthy With Simple, Natural Home Remedies From The Pantry And The Garden
by Sue Woledge.
Learn about the amazing but very common herb that stops even the most persistent coughing rapidly and that also helps to stop colds and sore throats before they take hold.
Learn about the simple and very cheap remedy that helps with gout, bad breath and heartburn.
Learn how to make a simple poultice that can be used on spider and other insect bites, boils and splinters.
Plus more….
Don't have a Kindle?
This ebook is specifically for Kindles. However, you can download a free application which enables you to read Kindle ebooks on your computer, iphone, Android, Blackberry, iPad and more.
You can also download the same FREE ebooks for the Nook over at the Barnes & Nobles site!
Why pay for books when you can get them free? See more FREE ebook offers!
Product prices and availability are accurate as of the date/time indicated and are subject to change. Any price and availability information displayed on amazon.com at the time of purchase will apply to the purchase of this product.