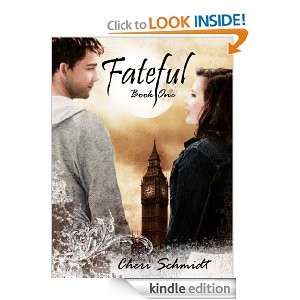 Today's FREE Ebook is Fateful (Book #1 in the Fateful Series)
by by Cheri Schmidt.
A huge fan of Jane Austen, Danielle hopes to find her own Mr. Darcy when she leaves Colorado to attend art school in London. Of course she knows it's silly to wish for that, naive even. But she's met enough males who lacked respect for women, a growing trend it seemed. And at nineteen…well…. However, on only her second night there she gets lost and is threatened by a stalker who proves to be immune to her martial arts training. Before she is completely overpowered, she is then saved by Ethan Deveroux.
Don't have a Kindle?

This ebook is specifically for Kindles. However, you can download a free application which enables you to read Kindle ebooks on your computer, iphone, Android, Blackberry, iPad and more.
Need a Kindle?
Why pay for books when you can get them free? See more FREE ebook offers!
Product prices and availability are accurate as of the date/time indicated and are subject to change. Any price and availability information displayed on amazon.com at the time of purchase will apply to the purchase of this product.