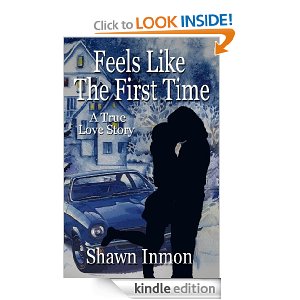 Your FREE ebook of the day is Feels Like the First Time
by Shawn Inmom.
September, 1975: Shawn meets Dawn, his one true love, when she moves into the vacant house next door. Many people spend their life searching in vain for happiness, but he was lucky; finding it at the age of fifteen.

February 1979: Forbidden to see each other and feeling he is harming her by being in her life, he walks away from the love of his life, apparently forever.

December, 2006: After decades of sadness and mourning the girl that got away, he has a chance meeting with her that might change his life forever… again. Can the sweet bond of first love not only survive, but flourish?
Don't have a Kindle?
This ebook is specifically for Kindles. However, you can download a free application which enables you to read Kindle ebooks on your computer, iphone, Android, Blackberry, iPad and more.
You can also download the same FREE ebooks for the Nook over at the Barnes & Nobles site!
Why pay for books when you can get them free? See more FREE offers!
Product prices and availability are accurate as of the date/time indicated and are subject to change. Any price and availability information displayed on amazon.com at the time of purchase will apply to the purchase of this product.